Main content
Product Range
---
---
For more information on "Dollies"
Dollies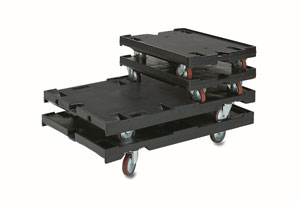 With the Utz transport dollies, load of up to several hundred kilos can be transported quickly and conveniently. The smooth running but powerful castors reduce the necessary amount of force to a minimum. There are nestable transport dollies that can be nested after a 90° rotation. Other dollies have been designed in a way that means that they can be stacked on top of each other, with the castors being placed into slots so that they are locked into place. Utz dollies are available for containers with the basic dimensions 400 x 300 mm, 600 x 400 mm, 800 x 600 mm and 1200 x 800 mm.
Please CLICK HERE to view the range in our online catalogue.
Please CLICK HERE to send an enquiry.
---
---
---
Dollies - 0 Products found