Main content
Product Range
---
---
For more information on "Plastic Pallets"
Plastic Pallets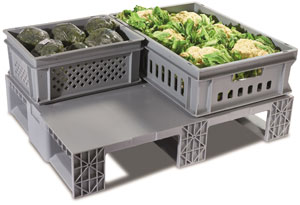 Utz pallets UPAL have a large number of variants. In accordance with its standard size they can be divided into half pallets 800 x 600 mm, Euro pallets 1200 x 800 mm, and ISO pallets 1200 x 1000 mm.
Plastic pallets with a metal reinforcement are particularly stable and are therefore perfect for high rack warehousing. Fully enclosed plastic pallets are easy to clean and are suitable for the food industry and for use under special hygiene requirements. There are many key advantages to plastic pallets; they have a constant weight, are robust and durable, and can also last longer than wooden pallets.
Please CLICK HERE to view the range in our online catalogue.
Please CLICK HERE to send an enquiry.
---
---
---
Plastic Pallets UPAL / Stacking frame - 0 Products found