Main content
Product Range
---
---
For more information on Pallet Boxes"
Pallet Boxes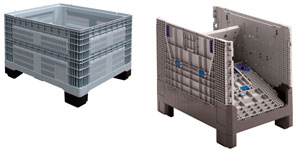 Utz Pallet containers are stackable containers mainly based on the ISO dimensions 1200 x 1000 mm. There are collapsible pallet boxes such as the KLAPA, or rigid containers like the PALOXE. These are mainly used in the automotive industry, but they also have a variety of applications across other industry sectors.
Please CLICK HERE to view the range in our online catalogue.
Please CLICK HERE to send an enquiry.
---
---
Pallet Boxes - 0 Products found